Designed and tested in collaboration with the biggest companies in the world, Rack Armour continues to develop new ways to reduce pallet racking damage and increase warehouse safety through its revolutionary ballistics grade product range.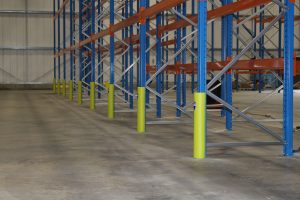 Rack Armour's outer shell is made from an exceptionally resilient and hard wearing plastic designed to take high velocity impacts. The shape of the shell was designed to repel and deflect impacts away from the upright, in turn reducing damage significantly.
Something that sets Rack Armour apart from its competition is its closed cell foam interior. Acting as a cushion between the racking and the plastic shell, the specialist foam diffuses impact energy and diverts the kinetic energy away from the racking upright, saving you money and time on a replacement leg.
Request your free sample.
Drop the team an email at info@rackarmour.com to request your free sample. You will be sent a document asking for measurements to determine which size guard you will need, and the sample will be shipped out to the address of your choice, free of charge!